Overview
Shree Tarpaulins provides specialized service of erection of monsoon sheds for domestic, commercial or industrial needs as per the requirement of our clients. Our monsoon sheds provide 100% protection for your goods from sun and rain.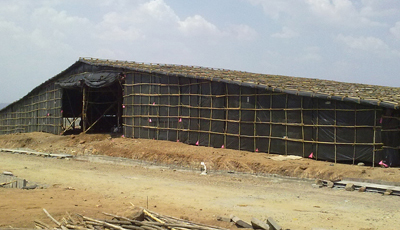 We provide a One-point Complete Turnkey Solution including:
Design
Optimum design of the monsoon shed as per the availability of space; our planners are experienced to ensure optimum design thereby reducing cost.
Procurement
We manage the procurement of everything that goes into getting your monsoon shed ready.
Transportation
Transportation of all the material and unloading at the site of erection of the monsoon shed and the related logistics is all taken care of by us.
Erection
The entire process of the shed is undertaken by our contractor under the expert supervision of our experts.
Dismantling
We dismantle the shed after the date of expiry of the contract and will transport the goods back from the site.
Following are some of the salient features of our Monsoon Sheds Services:
Monsoon Sheds in at your premises as per your specifications anywhere in India
Roof and Shed Structuremade from Bamboos and Wooden Bullies
They are covered with 100% waterproof Tarapulin and tied with quality Nylon Ropes
Trained and skilled workers with many years of experience
Expert supervisors for regular inspection to ensure adherence to specifications
Best Quality at a very reasonable price
Excellent Monsoon Sheds backed by Round-the-Clock service for damage or repairs as and when required